---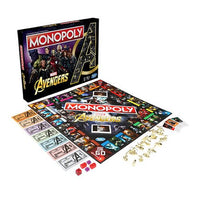 Avengers Endgame Edition Monopoly Game
In the Monopoly: Marvel Avengers Edition board game, players travel around the board drafting as many Marvel Avengers heroes as they can. The more heroes a player drafts, the more money they can collect, and the more powerful they'll be. Look out for the Children of Thanos spaces. When a player lands on a Child of Thanos, they have to battle them! Infinity Gauntlet and Stark Industries cards can quickly change a player's luck. The last player with money when all other players have gone bankrupt wins!
Includes 12 character tokens: Iron Man, Captain America, Thor, Hulk, Marvel's Black Widow, Hawkeye, War Machine, Ant-Man, Nebula, Rocket, Captain Marvel, and the Infinity Gauntlet.
Includes gameboard, 12 tokens, 24 Hero cards, 16 Infinity Gauntlet cards, 16 Stark Industries cards, 32 bases, 12 headquarters, 2 dice, money pack, and game guide. Ages 8 and up. 2-6 players.