---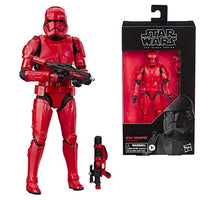 Star Wars The Black Series Sith Trooper 6-Inch Action Figure
In its ultimate push toward galactic conquest, the First Order readies an army of elite soldiers that draw inspiration from a dark and ancient legacy!
This Star Wars Episode IX: The Rise of Skywalker The Black Series Sith Trooper 6-Inch Action Figure is detailed to look like the army from
Star Wars: The Rise of Skywalker,
featuring premium detail and multiple points of articulation. The troopers also come with Sith Trooper-inspired blasters which can plug in to the hip for storage, or be carried around in their hands. Ages 4 and up.